As the harbor community works to streamline cargo movements and reduce truck turn-times, there is a particular inefficiency that must be addressed:  the trouble ticket. While trouble tickets are caused by a range of issues, they almost always stem from inaccurate or incomplete information about an import container delivery or an export booking problem. This results in delays for customers and truckers and additional issues for terminal operators.
Fortunately, through the use of available tools, we can improve the situation and reduce truck turn-times by checking the availability of import containers or the validity of export booking numbers. All terminals have web-based availability systems and some have additional phone systems that allow the trucking and cargo communities to doublecheck before prematurely sending a trucker to the terminal. eModal.com serves as another resource for confirming the validity and availability of cargo prior to pickup. When trucking companies fail to use these resources, truckers experience delays as a result.
In an effort to better understand the causes and effects of trouble tickets, PierPass will work with terminals over the next few months to document their experiences with trouble tickets. We understand that this is a problem across all terminals, but we also know that this problem can be improved by checking and confirming before dispatching.
Below please find the first terminal account of the trouble ticket issue.
TERMINAL EXAMPLE:
As a terminal operator, EMS Ltd. (APL Terminal) would like each and every trucker to have a positive experience delivering or picking up a container at our terminal. We strongly recommend and ask that drivers collect all required information prior to entering the terminal. This includes using Pier Pass, eModal.com, terminal website, customer service and our automated phone system to confirm that containers are discharged, cleared and ready for pickup.  For GGS, approximately 5 percent of all gate transactions end up at the trouble window – about 2,500 drivers every month.  We need your help to reduce the number of trouble tickets. Please see below our top 3 trouble ticket items which consist over 65% of the problem that can be avoided with unnecessary visit to our trouble window.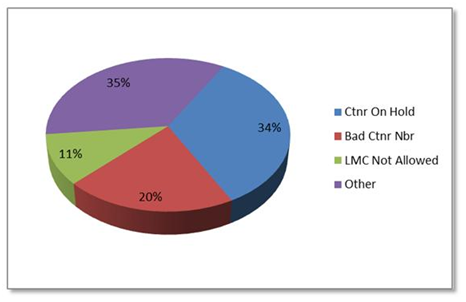 Please use the below contact information to contact Eagle Marine Services and see if a container is cleared and available. Keep in mind that drivers may be held up by others that did not check availability or booking information.
Website: www.eaglemarineservices.com
For automated container availability 24/7; Please call our Eagle Voice: (888) 815-3758
For Customer Service; Please call (310) 548-8815